Update 14
Ian Hamm sat down with the team to share his thoughts on referendum, the question posed to all Australians, and his methods for tuning out disinformation.
Navigating the current discourse on the Voice can feel like traversing a maze of uncertainty and misinformation, especially for those who are feeling more hesitant.
With many differing opinions surrounding the Voice and what it actually means for Australia, we recognise the genuine perplexity felt, especially in these busy and stressful times.The prevalence of contradictory information and misleading narratives only adds to the uncertainty.
Here, we introduce Ian Hamm, a Yorta Yorta man who is devoting himself to improving the representation of Aboriginal people on boards and other high level governance, through strategic action, advocacy and mentoring.
When it comes to the question of the Voice, Ian speaks passionately about getting to the bottom of what is actually being asked of Australians.
"I think one of the things Australians need to consider is, what are we actually being asked? Not asked to do, but what are we being asked?"
Lessons from the past: The 1967 Referendum
The 1967 referendum serves as a poignant reminder of how confusion can cloud the bigger picture. Back then, many people became entangled in the intricate web of details about what would transpire after the referendum, ultimately missing the simplicity that lay beneath.
The 1967 referendum asked the question: 'Should the constitution be amended so that the Aborigines can be counted in the reckoning of the population and should the commonwealth government be able to make laws about Aborigines?' 
Ian suggests the real question, the simple question underneath, was actually: 'Do the Aborigines belong in this country? Are the Aborigines part of the future of this nation?'
At this point in our history, Ian talks about how the Aboriginal people had been "disenfranchised, disempowered, disconnected," so this vote was more than just a "statistical gathering for the country."
"Australians," Ian says, were being asked a simpler question, "Do we bring Aboriginal people in from the cold? Do we make them part of this nation? That fundamental question of do the Aborigines belong in this country was really the question Australians had to answer. And the answer was yes."
"What has been consistent over that time,' he says "is the complete inconsistency when the Commonwealth talks to Aboriginal people about things that are going to be affecting them. We've had no structure for the voice of ordinary Aboriginal people – the views of ordinary Aboriginal people – to reach the ears of government."
"[The government] don't always talk to the people it's about. They decide they know best and off they go. Which, you know, parliaments and commonwealths are quite entitled to do, that's the way our federation is structured, that's the way the constitution works. But it's not a very sensible thing to do."
Looking to the present: The 2023 Referendum
This year's referendum, in Ian's opinion, follows on from the 1967 referendum question.
The question being put forward this year is: 'A Proposed Law: to alter the Constitution to recognise the First Peoples of Australia by establishing an Aboriginal and Torres Strait Islander Voice. Do you approve this proposed alteration?'
But Ian argues that's not the real question being asked. 
"The real question now is a very fundamental one." He says. "In '67 we said 'Yes, the Aborigines belong in this country. The question being asked now is: 'Should the Aborigines be able to speak? Should we, as a country, should I as a voter, allow the Aborigines to talk about things that are about them?' Yes or No?'
And that's all it is. That's what the average Australian has to think about and nothing else."
Ian believes this is actually a principled question, "It's asking every Australian to ask a fundamental question 'who am I as a person?', 'What do I deeply believe in?' 'Do I believe that this group of Australians, who have been left out in the cold, have been constantly, and in measurably statistical data – but in a deeper moral sense – been kept at the bottom of our country, is that right?' We're not asking to be heard, this is simply ensuring we are able to speak."
Addressing the pushback
Although there is a very strong "No" voice among the right wing cohort, we are also seeing Indigenous people who are actively against the voice, particularly the younger generation. Ian shares his thoughts on why we are seeing this pushback from within Aboriginal communities.
"I think primarily because they don't understand what it's about, that's the first thing. I've seen people talk about 'Where's the detail? Who's going to represent what?' None of that matters. If we don't first of all make the choice as a country that yes, the Aborigines should speak, then none of it matters."
Ian talks about the idealism of youth in wanting the perfect outcome at the first step.
 "I was young and idealistic too. It was all or nothing. We wanted land rights and land justice and to a large extent, we are well on that path now, but it was that idealism of all or nothing. And that's what young people do. So, a lot of our young people, our influencers are saying 'Treaty or nothing!' and I guess as you get older you become a pragmatist."
"Yes, I'd love there to be a national treaty or a national treaty framework," he adds. "But the question is 'How do we get there?' You actually have to bring people with you."
Taking steps to get to treaty is important but rushing into it could take us many steps backwards, "If we went to a national poll on whether there should be a treaty or not, there would absolutely be one million Australians who would vote yes for a treaty, the other 15 million on the electoral roll would say 'no, that's way too far too quick!' You've got to bring those 16 million Australians with you one step at a time and this is a step. A modest step but a very important one. Simply giving us the right to speak."
Looking to the future
In the midst of the noise surrounding the Voice, we mustn't overlook the simple question at its heart, as highlighted by Ian.
Letting confusion deter us from action could set us back significantly in our nation's history. We can't afford to underestimate the importance of making informed choices, despite the supposed complexities. The Voice represents an opportunity we can't let slip away due to indecision.
"I think a lot of people fail to realise the depth of this question and the importance of it." Ian says. "And they think we can revisit it. This is a one off. We're done. Either way, we don't revisit this."
"If this gets up, it will show Australia being a nation that is maturing, coming to terms with its own past, but equally focused on the present and where we want to go in the future." 
Ian leaves us with a final question: What do we want Australia to look like?
"It is about ensuring that Aboriginal people are equally engaged in the future of this nation. The Voice will enable us to bring what we want to bring to the nation. It will enable us to talk about what's good about being Aboriginal. To talk about what we bring to the nation. To talk about how we enrich and make it a better place. That's what will happen if this vote gets up."
---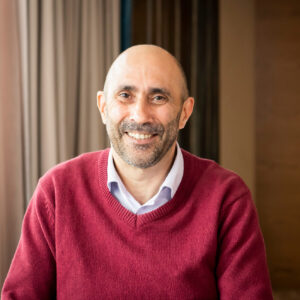 Ian Hamm is a Yorta Yorta man, with extensive government and community sector experience, particularly at executive and governance levels. Ian has overseen major policy and strategic reforms for government and community organisations. Ian was CEO of a major Aboriginal community organisation from January to August 2018.
Want to get involved?
Become a Conversation Host. Bring others with you.
Get involved